As part of Dev Day 2018, HubSpot added a nice little challenge on the HubSpot Community asking us to build our own take on an existing custom module on the HubSpot Marketplace.
For my module, I chose to build a more clean and modern version of the Team Member module.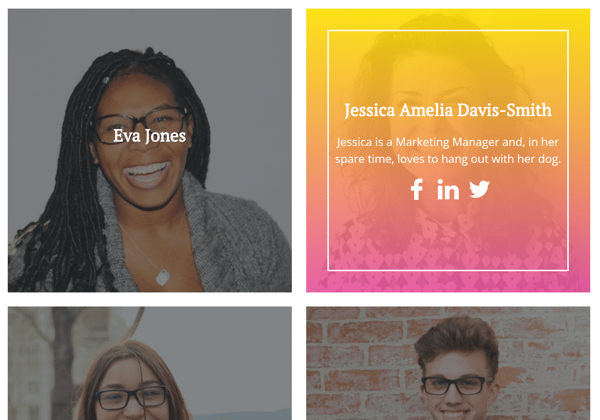 You can preview a demo of the module here.
Responsive Grid
The module allows you to quickly add as many team members as you like and uses a responsive grid to organise them on the page. Regardless of how many you've added, they will always distribute nicely depending on the size of your box, the number of team members and the screen size.
Customisations
There are several elements you can easily customise from the editor.
General Customisations
You can update the size of the boxes, the default colours over the person and the colours that will appear on hover.
By the default colour, I'm referring to the black overlay you can see over each photo (this allows you to easily read their name). The hover colours appear when you hover over the team member (in the case below, yellow and pink to match my site). Each allows for two colours to create a gradient effect - adding the same colour to both the 1 and 2 fields will let you apply a single colour.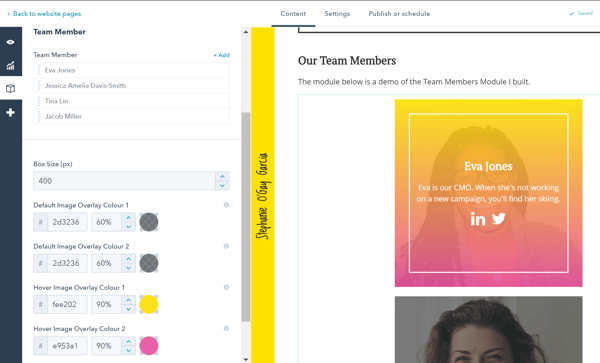 Team Member Customisations
When you add a new team member, you can add the following information for them:
Full Name
Description
Photo
Facebook URL
LinkedIn URL
Twitter URL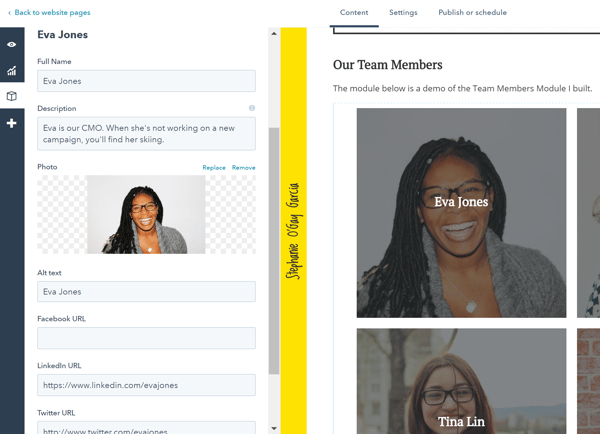 At this time, the module isn't available anywhere although it will most likely be available on the HubSpot Marketplace soon (check out my Blog RSS Feed Module I added to the Marketplace also).
However, if you're interested in learning more about the module or adding one to your site, let me know!